Kent Wang Beechwood Shoe Tree Review
The shoe tree is a must own to keep your shoes in great shape (literally) through the years. So today we take a look at the Kent Wang beechwood shoe tree review.
These shoe trees are made of European Beechwood, but I their description may be a little misleading as I believe they are manufactured in Asia.
Upon opening the plain white, unbranded box I'm greeted by two matte finished shoe trees with brass knobs. The finish looks nice, I opted for the matte finish over the gloss finish simply because they looked much better in the photos provided by Kent Wang. The finishing is relatively even throughout besides some missed areas around the inner hole and holes for the spring loaded tubes, no big deal.
It resembles the last and shoe tree shape used by many respectable shoe makers, particularly Gaziano & Girling's old shoe tree design.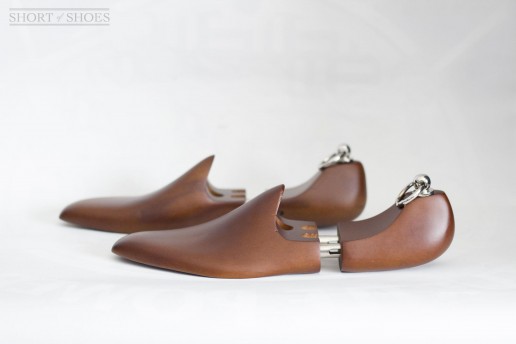 Side angle of the shoe tree's shape and high instep.
The overall shape is very elegant and looks much nicer compared to the common Woodlore's unfinished cedar shoe trees. The toe box area is relatively low in volume compared to Woodlore's Epic Twin Tube Cedar Shoe Tree
, but it's also more pointed which should allow it to sit further into the shoe. This is good news for those with shoes built on more pointed lasts. It works well on my Enzo Bonafé 804 lasted shoes with an elongated, almond-shaped toe.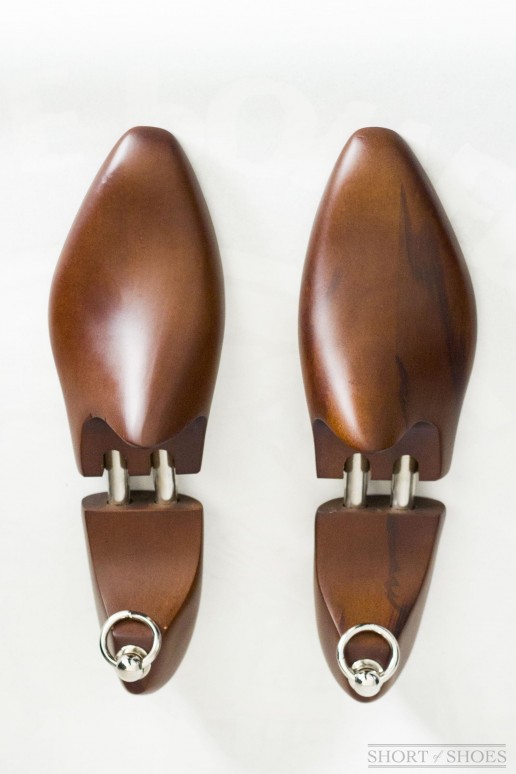 At the bottom of the forefoot area, it's not flat like most shoe trees. Instead, it's slightly concave with a hole leading from below the instep area as you can see pictured. I would assume this is to provide ventilation, allowing moisture to escape from the insole at the forefoot area via this hole.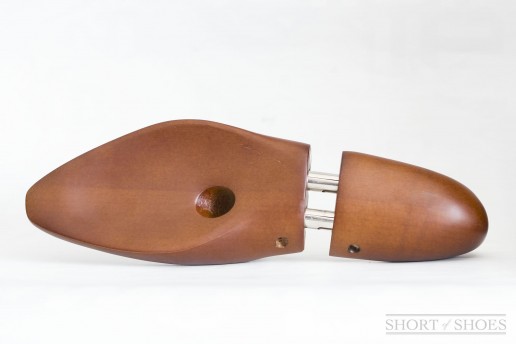 The instep area rises higher than my Woodlore's. Again, good news for those with shoes built on lasts with high insteps like most of Enzo Bonafé's lasts.
Kent Wang's shoe trees use a twin tube design similar to Woodlore's epic model which helps evenly distribute the spring load once the tree is inserted. The spring loaded system operates very smoothly without any hitches, even when inserted into boots. I've experienced notchy springs before and it's pretty unpleasant.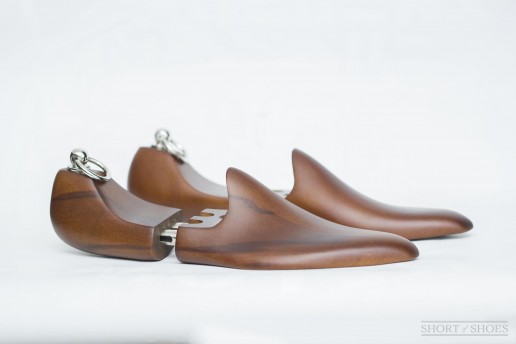 One disadvantage I found here is that the range of motion (30°) on these twin tubes is not as good as the Woodlores. While these can work with boots, the limited range of motion does make it tougher to slide them in. It creates enough friction against the insole and the Achilles area of the shaft that it may create unnecessary wear. So for me, I won't be using these in my boots to avoid wearing out those areas.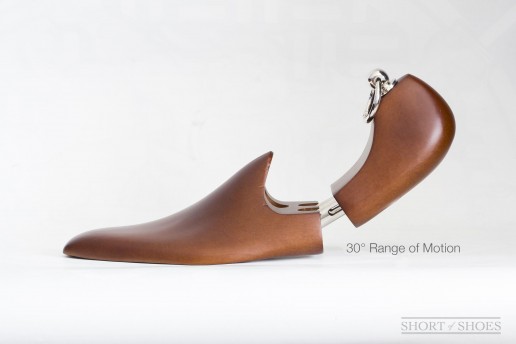 Then we come around to the heel area, it's nicely rounded which will ensure that you don't wear out the heel area of the shoe when inserting and removing the trees over and over again. Some shoe trees do not utilize a full heel and can wear out the inner heel counter rather quickly.
Moving above the heel area, there's a screwed in brass knob to make removing the trees easier. This resembles Gaziano & Girling's old shoe trees which look great. I haven't had any issues with the knobs coming loose, but that is something screwed in knobs are prone to over time. The ring of the knob does come into contact with the matte finish of the tree and has begun to chip it off, albeit very slowly. But its something that will only get worse with time.
Overall I'm very satisfied with my purchase being that most shoe trees with a similar design and finish can cost double what I paid via a Massdrop campaign ( $35+ shipping and tax). These retail for $55 at Kent Wang, but you'll still have to cover applicable tax and shipping.
That would bring my price up to $68. At that point, I might consider spending a little bit more and getting something like Carmina's shoe tree for $75 which is made in Spain. Still, this is a very good shoe tree and a good value if you can score free shipping on them. If you're looking for nicer shoe trees without breaking the bank, give Kent Wang's beechwood shoe trees a look.
For a solid shoe tree on a tighter budget, Woodlore's Epic Twin-Tube Cedar Shoe Tree
is hard to beat for only about $30 and it's made in the USA. It's available here
.
Short of Shoes is a participant in the Amazon Services LLC Associates Program, an affiliate advertising program designed to provide a means for sites to earn advertising fees by advertising and linking to amazon.com.