Loake Shoes Review - Kempton Suede Chukka 1880 Line
Loake Shoes History.
Let's first take a quick look at the history behind the brand before we head into the full Loake shoes review. In 1880 the company is born when Loake is set up in Kettering, Northamptonshire, by three brothers, Thomas, John and William Loake. Through the world wars, Loake made footwear for the British Army which included an array of boots. It's estimated that they have produced over 50 million pairs of shoes since their inception and was granted a Royal Warrant of Appointment to HM The Queen in 2007.
Today the company is still owned and managed by the family with Andrew Loake currently serving as the managing director. They've expanded by adding different lines of shoes with the entry level shoes being produced in their India factory and the higher end shoes still being made in Northamptonshire, England.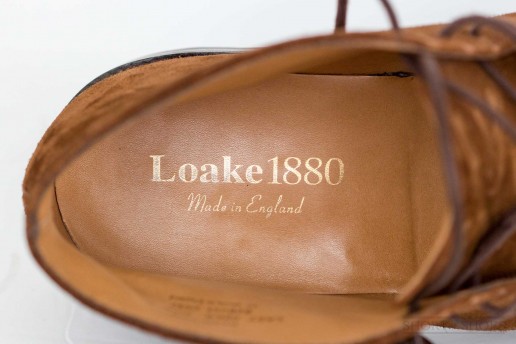 Loake has five different lines while also producing private label shoes for companies like Charles Tyrwhitt and Brooks Brother's Peal & Co labels. But the 1880 line is the one you want to pay attention to and what this Loake shoes review is mainly focused on.
They've recently looked to expand their presence in North America by partnering with a distributor within the last year and disallowing UK retailers to sell directly to the US. The number of retailers carrying Loake in the US is growing steadily which is nice to see so consumers can experience Loake quality and get sized in person.
Our aim is to uphold this tradition and continue making the most handsome, comfortable and durable shoes we can.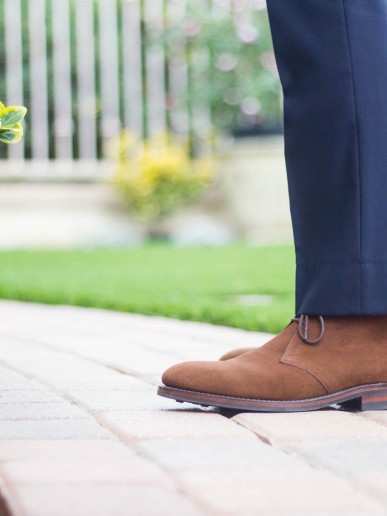 Loake Shoes Review Specifications.
Brand: Loake Shoemakers
Line: 1880 Line
Model: Kempton
Color: Brown Suede
Last: 026
Size: UK 7.5F, ~US 8.5D Equivalent, regular width (Loake standard width is F)
Sole: Double sole, single leather & single rubber Dainite studded sole
Construction: Goodyear Welted 360°
Price: $310 USD
Origin: Made in England (Kettering, Northamptonshire)
Stockist: Blue1899
Disclaimer: Stockist Blue1899 sent me this pair of boots to me for free in exchange for an honest review and an exclusive 25% OFF all Loake shoes for my email subscribers.
Subscribe below to get your promo code.
Unboxing. 
The Loake Kemptons came packaged double boxed from Blue1899. The Loake shoe box was generously sized for chukkas and pretty sturdy. The shoes come shipped inside the cloth shoe bags which is nice, not all shoe brands do this (Carmina comes to mind), it adds a little extra protection for the shoes finish during international travel.
Along with the cloth shoe bags, you'll find some light padding, a small Loake information booklet, and extra flat laces.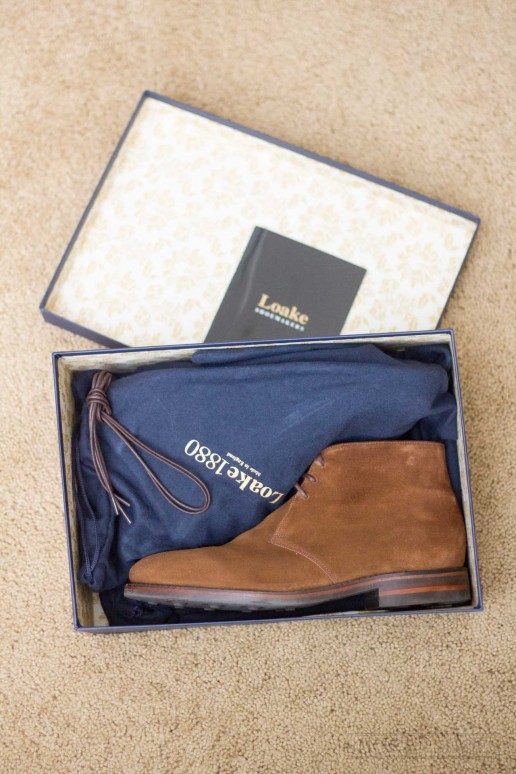 The Loake 1880 Line Kempton Chukkas come in a generously sized box with cloth shoe bags, a little welcome booklet from Loake and extra laces which are flat.
Initial impressions of the shoes were good. The Loake Kempton is a three-eyelet, suede chukka with a rubber sole. I prefer the design of these chukkas over Allen Edmonds or Alden's versions as the lines are sharper and resemble something more along the lines of an upscale Clark's desert boot. I personally think it is one of the better-looking chukkas out on the market.
A quick look over the shoes and all looks good without any imperfections that really stood out to me. Seems like Loake has their quality control down given their heritage in making conservative and classically styled shoes. I did notice that the nap of the suede on the right shoe was just slightly longer on the vamp. I think as the shoes wear and age this will become less apparent, though it didn't stick out like a sore thumb, to begin with.
Loake's 1880 line makes for a very good value while focusing on traditional designs. The Kempton chukka is one of the best options if you're looking for an elevated chukka to replace your Clark's Desert boot.
The brown suede preliminarily looks to be of good quality as it is relatively soft with the nap being fairly consistent throughout besides a small portion of the vamp of the right shoe which was a little longer.
The shade of the brown is just a touch darker than Alden's snuff suede (see comparison shot in the photo gallery below). It's simply described as brown suede, but Loake also offers a polo suede on a few different models and it's pretty hard to tell the difference. This shade of brown, like my Alden's loafers, is very versatile and easy to pair. Denim is the obvious choice, but it really pairs well with most pant colors.
What I enjoy most about this shade of brown is that it looks very different depending on the lighting. Indoors it can look like a dark brown and under direct sunlight almost a golden brown. I haven't babied these chukkas at all and the suede has held up well. I've scuffed them lightly a few times and after a little brushing with my suede brush, you wouldn't be able to tell that they were slightly scuffed at all.
The suede didn't require much break-in at all with the shoes being pretty comfortable right out of the box and even more so after just a couple short wears. I'd say the suede used seems to be nicer than Carlos Santos, but definitely a step below Enzo Bonafe and Edward Green as one would expect. Honestly, its tough to gauge the quality of suede compared to a smooth leather, so I'll see how it does over the long run and update here.
I do actually have a couple of other Loake pairs in suede, but they are likely from their lines below their premium level 1880. Both those pairs were private label for Brooks Brother's Peal & Co brand and used suede of much lower quality.
It wouldn't come as a surprise if these chukkas end of being one of my most comfortable pairs as I continue to wear them.
Stitching and construction details.
The chukka's pattern and design are very simple. In result, there isn't much stitching and very few seams. Loake's Kempton only uses three pieces of leather and the stitches that hold these pieces together are done cleanly throughout. They are more minimal than Alden and Allen Edmonds versions with less stitching and more akin to Clark's iconic Desert boot. There is only a single line of stitching that runs up the facings and around the ankle area where Alden and AE two spaced out rows of stitches.
There are two lines of stitches holding that holds the vamp to the quarter and a small area of stitch reinforcement which resembles a rectangle. At the back seam, you won't find a dog tail which is when the back seam runs vertically then angles off at the top resembling a dog tail. The use of a dog tail is functional because the back seam is less likely to come apart due to by dispersing tension between the seams.
On the inside of you'll find it's fully lined as is standard. There is a 1/3 length sockliner with a healthy amount padding at the heel for some nice shock absorption (for a dress shoe anyway). Loake 1880 Made in England is stamped on the sockliner and "real leather" is stamped on the insole.
The welt is flat and plain with no embellishments whatsoever. The outsole stitching is done at 7-8 SPI (stitches per inch), but the start and end of outsole stitch could've been executed much cleaner. It's on the medial side of the shoe near where the heel stack begins so at least it's not really noticeable unless you are looking for it. At the top of the heel stack, they've used a seat wheel tool to decorate it, a simple and traditionally garnishment used on many dress shoes.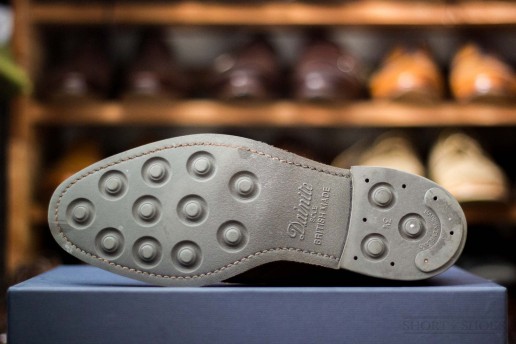 Once we look to the bottom of the shoe you'll see the well-known British made Dainite studded sole. This version had a slight texture on the surface of the sole and seems to be an effort to add a little more grip for the wearer. Most, if not all, the other Dainite studded soles I've encountered used the flat, non-textured version. So this may be a newer more improved version of their famous sole.
At the heel, surprisingly it looks to only be attached by cement, even though Dainite leaves openings for nails to be driven through the toplift for extra security. While that's not a big deal, I would've like to see the nails there as they are present in all my other shoes sporting Dainite heels.
The 026 last Loake describes as "This last is very much a classic English last shape, with a rounded toe of standard length." I'd agree with Loake's description though the toe has very subtle angles rather than being a bulbous round toe. It's said to be similar to Loake's most popular and standard capital last with just a hair more room in the forefoot and toe box area.
It fits my wider feet quite well and a very comfortable in my case. I do wish the toe spring was about 2mm lower though. The toe spring measures about 17mm from the ground to the sole at the tip of the toe.
For my size US 8.5, it's nearly 12 inches in length and 4.25 inches at its widest point measured on the outsole. The weight sits at 21.1 & 20.7 ounces for the right and left boots, respectively.
Heel height: 1 inch / 27.25 mm
Sole thickness (including welt): 0.45 inches / 11.25 mm
Leather thickness measured at the quarters including lining: 3.65mm
Toe spring: 17mm
Overall it fits true-to-size with just a little more room in the forefoot and toe-box area. The last should be able to accommodate some slightly thicker socks which I feel is a nice option to have, particularly on boots. I'd definitely recommend getting your normal size in this last. The instep is about average or maybe even slightly below average which works better for me. I've experienced pretty much no heel slip even during the break-in period.
The initial arch support felt pretty good, but this tends to flatten out a bit as my flat feet continue to put weight in the arch area. So I'll have to see how it holds up after prolonged wear.
The boot is able to accommodate my not so normal feet pretty well. So that's great for me and those with similar sized/shaped feet.
My true size is a US 8EE (wide) in the forefoot and 8C (narrow) in the heel. Since almost no makers offer this size in RTW, I typically order a US 8.5 or equivalent (~UK 7.5) to accommodate my wider forefoot. I have a low volume/instep foot as well which tends to affect fit adversely.
As I mentioned earlier, I received these shoes from Blue1899 as a review pair in exchange for giving all my email subscribers a 25% OFF Loake promo code (you can subscribe below). All the thoughts and comments written in this review are mine in their entirety with no filter whatsoever from Blue1899.
They are a new online retailer offering a relatively small collection of men's and women's apparel and Loake shoes. Blue1899 can special order any size and model of Loakes if they don't currently have it in stock.
As Loake puts more focus on expanding in North America they look to build a strong network of domestic retailers and prevent the UK retailers from undercutting them. You're no longer able to order Loake shoes directly from the UK from the usual suspects like Pediwear and Herring Shoes for dispatch to the US. Edward Green has done the same thing as it really helps the growth and support of the domestic retailers.
The Loake Kempton model retails for $310 and the 1880 line offers models between the $299-$350 range. One of Loake's newer and more exciting models would be their Anglesey boot, I think that one is definitely worth checking out!
Subscribe below to get your 25% OFF Loake shoes code at Blue1899
At the retail price in the $300 range, Loake presents a solid, entry-level value for a made in England shoe and a company with a rich shoemaking heritage. Loake is a direct competitor to the US made brand Allen Edmonds. I would prefer to buy Loake over AE due to better attention to details, quality control, last shapes and maybe slightly better materials (specifically talking about the 1880 line). If you're looking to up your chukka boot game from Clark's desert boots, this is certainly one of the best options out there without breaking the bank, especially if you can find them on sale.
The downside to Loake thus far has been the ability to easily procure a pair to size correctly. But that seems to be changing as more and more US retailers start to carry the brand. Loake seems to have maintained their quality over the years while AE's quality has started to slip and who knows where AE's new corporate owner Caleres Inc. (publicly traded) will take the brand. Especially so with the departure of Paul Grangaard, Allen Edmonds longtime CEO who led AE through the great recession and has grown the company in the last several years.
Since Loake is a traditional company in nature, their designs have remained conservative as well. There just hasn't been much to get excited about from a material or design standpoint recently aside from the Angelsey model I mentioned earlier. They did recently introduce a green suede Pimlico (another chukka) model earlier this year which is nice to see since I'm a big fan of green suede. So maybe there is some hope in them rolling out new models and materials in the 1880 range.
What Loake lacks in creativity they make up for in pretty good consistency. Producing a relatively small amount of models and made of proven materials is a good recipe for ensuring better quality control.
So if you're looking for a conservative goodyear welted shoe, Loake surely fits the bill in the entry-level category. Made in England, with a rich history, Loake is a very good value. Even better if you can find them on sale.
This post will be updated once I've put some more miles on the shoes and will document how they wear over time on Instagram. I hope you enjoyed the Loake 1880 Line Kempton Chukka review!
Have any questions or suggestions for the review? Drop me a comment below after browsing the gallery!
How I'll be Caring For The Boots
We end the Loake shoes review with the best part: boot porn.