Carlos Santos shoes has a long history in shoemaking as the original Zarco factory owned by the Costa brothers was established in 1942. Carlos Santos, the current owner and managing director, started working at the original shoe factory at the age of 14. He decided to dedicate his life to shoes and slowly, but surely bought shares from the brothers, increasing his shareholder stake. From what I gather, Carlos Santos is more a visionary and businessman rather than a traditional shoemaker. But it appears he's very involved in the design and operations at the factory level.
By 2002 he took full ownership and his first major move was made, thus the Carlos Santos brand was born.
The factory has produced shoes for a number of brands including Mack James, Star Label, Markowski, Herring and numerous other private label clients at the international level. The construction method used varies, but the shoes are mainly Goodyear welted, Blake and Bologna. The Carlos Santos factory is substantial in size, based out of north Portugal in São João da Madeira, which produces roughly over 100,000 pairs of shoes a year.
For reference, US-based Allen Edmonds produces over 500,000 shoes a year.
You can count the number of factories around the world like this one on your fingers.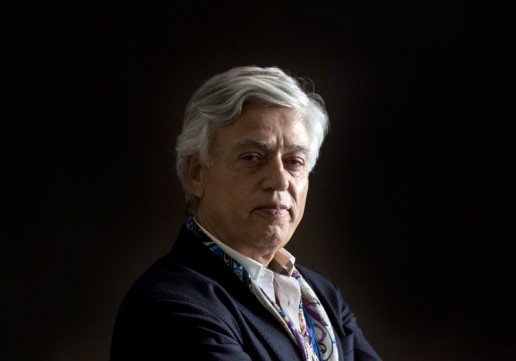 Carlos Santos Review Shoe Specification.
Brand: Carlos Santos
Line: Goodyear Welted Collection
Model: "Field Boot"  Style 9156
Color (Pair 1): Oak Calf Upper, Brown Grain Shaft
Color (Pair 2): Brown Grain Upper, Mink Suede Shaft
Last: 316 Almond Shaped Toe
Size: UK 7.5, ~US 8.5 Equivalent, regular width
Sole: Combination leather/ Genuine Dainite studded double sole
Construction: Goodyear Welted 270°
Price: $375 USD
Origin: Made in Portugal
Unboxing. 
The Carlos Santos shoe box is one of the better put together boxes I've encountered, it is quite substantial with a nice subtle textured feel on the outside. It's larger than your regular shoe box size to accommodate the higher shafts of the boots. On the inside, you're greeted with two cloth shoe bags, shoes inside them and a nice houndstooth print design on the interior of the box. There is a foam cushion between each shoe to prevent damage, but unfortunately, the top speed hook on the left boot was bent during shipping. So much so that I wasn't able to put the lace through, but I was able to bend it back into place. Inside one of the boots, you'll find a Carlos Santos branded plastic shoe horn. It's a bit thin and quite cheap feeling, but you're lucky to even get one included at their price point. It's still a nice touch.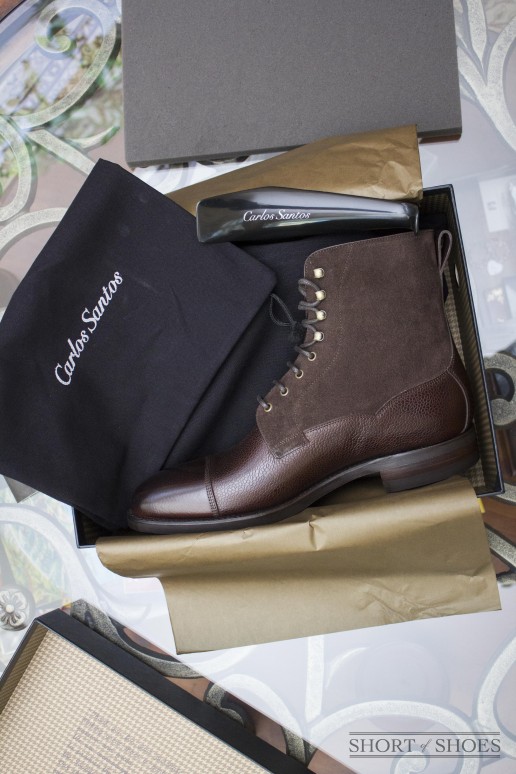 Carlos Santos Field Boots unboxed. Well presented with cloth shoe bags and shoe horn in a sturdy textured box.
Initial impressions of the boot were excellent. It's a two-tone, cap toe blucher with four eyelets plus four speed hooks that climb the nearly 6 3/4 inch high shaft.
As you've probably noticed, this Carlos Santos boot is strikingly similar in appearance to Edward Green's fabled Galway boot. So much so that one could easily mistake these as the originals at first glance. There are a few other makers who do similar boots to EG's Galway, but Carlos Santos most closely reproduces the original from a purely aesthetic standpoint so far. It's an elongated, but well-proportioned boot with just small visual differences from the iconic $1,500 Edward Green Galway boot.
Here are a few readily observable differences:
Slightly more elongated appearance

Real cap toe vs EG's faux cap toe

Leather tab piece at the top of the heel is missing curvature, EG's pull tab also runs just slightly higher above the shaft
Look no further if you've been longing for Edward Green's Galway boot, but the price point has been unapproachable.
Pair 1 - Oak Calf Upper and Brown Grain Shaft
The smooth leather of the oak calf preliminarily looks to be of good quality given its smell, feel and visual tightness of the grain. The color has good depth and should patina nicely over time. It does seem to be a little on the stiff side upon first handling and fitting, but the leather on the vamp has already softened considerably after the first wear (just 4500 steps). I'll follow up with another post after extensive wear. This leather is also used for the tongue which is unlined. The flesh side seems to have been sanded down or treated because it doesn't sport the normal nap you'd expect on the flesh side.
The burnishing on the toe is absolutely spectacular.
This is definitely the most outstanding characteristic of the boot in this makeup. The burnishing job here is at another level, something you'd expect to find on shoes more than double its price.
However, I did find a couple of very small flaws in the leather.

First is a blotch on the left shoe on the vamp. To be fair the retailer, Skoaktiebolaget, found this during the inspection and offered me 10% off the pair. It's not that noticeable and should become less so as I wear them and apply polish over the affected area, it's about half the size of a dime.
The other small issue was the leather at the heel is slightly rumpled. a Not huge deal, especially given the other qualities of the shoe at its price point.
The shaft's brown pebble grain's embossing is relatively consistent, but there are a few areas where it could be more prominent. It's normal that the grain would be flatter in areas like the toe where the leather is stretched further due to being lasted with more pressure. Overall I would have liked to see more pronounced grain for more texture and depth, but this is something that should improve with time as the leather creases from wear. The shaft hasn't softened up too much after the first few wears, but expect it to become more comfortable over time.
There was just one flaw I found in the grain leather shaft - it's what appears to be a puncture near the heel, about the size of a hand stitch leather hole. It's nearly invisible, so again not a big deal.
Pair 2 - Brown Grain Upper, Mink Suede Shaft
The brown grain upper on this pair has a slightly more supple and soft feel to it compared to the oak calf of the first pair. Again the grain pattern is pretty consistent for the most part. Although this is supposed to be the same brown grain as pair one, it does appear that the color has a hint more of burgundy to it depending on the lighting.
The suede looks to be of good quality as the nap is pretty short and tight throughout its use. It's a small step down compared to Enzo Bonafé's suede. The suede is stiffer than I would have expected straight out of the box. It may not be the softness of the suede that is the issue, but rather the thickness of suede leather being used. The thickness of the suede shaft is thicker than the grain shaft, on average about .25mm thicker (not including the collar) so this could be why it feels stiffer right out of the box.
Both boots are fully lined with natural colored leather as is the 1/3 length leather sock liner stamped with the Carlos Santos signature.
I did find a few ever so slight issues in the finishing after examining it with a fine tooth comb as pictured, none were significant.
Stitching and construction details.
The stitching on both boots is done well with 90% of the stitches perfectly placed. Unfortunately, one of the more noticeable inconsistencies (at least when put under a microscope) is located on the left cap toe of the calf upper model, probably the worse place for any out of place stitches. It's the triple stitched toe where one of the stitching lines isn't very straight. It's something that no one except for the owner would notice likely, though.
While the welt doesn't have any fudge wheeling details, it isn't completely flat. The edge of the welt sports a nice bevel, a very nice subtle detail I enjoy. The stitching is done at about 7-8 SPI (stitches per inch). There are a few awkward looking stitches out of the place on the welt of each shoe which I have pictured, which are really insignificant.
On the outsole stitching, there are places where the stitches fall inside the "crater" around the studs. While I wouldn't consider this a stitching issue, it does bother me a little since this isn't supposed to happen. I think possibly downsizing the size of the sole would alleviate this problem. It's purely aesthetic, albeit bothersome, but shouldn't affect the durability of the shoe.
Fit. Carlos Santos 316 Last.
The Carlos Santos 316 last is almond toe shaped and fits slightly on the roomier side. It's rather elongated, being the most elongated shoe I currently own. It's longer than Enzo Bonafe's 804 last and edges out Allen Edmonds 222 last as well, sized in UK 7.5 and US 8.5 respectively. It's a touch too long aesthetically for me, but is still overall well proportioned and looks good. I'd prefer it to be 1/4" shorter. In my opinion, the boot proportions would be more well balanced that way.
It's nearly 11.75 inches in length and  3.6 inches at its widest point measured between the outsole stitches. The weight sits at 27 ounces.
The toe box is slightly on the roomier side and I'm able to wear the boots with thicker wool socks quite easily. As a matter of fact, I'll probably wear thick wool socks almost exclusively to get a better fit for my feet, though regular socks still work fine. The instep is average in height and the heel is a touch wider than average I'd say. I've experienced no heel slip as expected from a boot with a shaft on the higher side which really keeps my foot locked down in place. Overall the last is slightly on the roomier side and I may have been able to size down half if I was okay with wearing only regular/thinners socks, but that's a big maybe. Arch support is decent for a ready-to-wear model, something I wish was more prominent, but time will tell if the support holds up.
My recommendation is if you are in between sizes, take the half size down; especially so if your foot leans more toward the long and narrow spectrum. Otherwise, take your normal size and just be aware that's its elongated in the toe and slightly roomy in the forefoot.
My true size is a US 8EE (wide) in the forefoot and 8C (narrow) in the heel. Since almost no makers offer this size in RTW, I typically order a US 8.5 or equivalent (~UK 7.5) to accommodate my wider forefoot.
Here's a last comparison photo, you can also see how straight the cap toes run from the different brands.
These boots were purchased via Skoaktiebolaget through a GMTO (group made to order minimum is 8) and its an exclusive model to them. Skoaktiebolaget has stocked this model boot, but in a single material before. Given its success, I would guess this is a boot they will continue to bring back in stock, but maybe in different make ups depending on the season.
With the field boot model, aka the "poor man's Galway", Carlos Santos presents a very good value at their price point of $375. The build quality and leather seem to be very good after initial impressions. If you're looking for a worthy reproduction of the Edward Green's model at an attainable price, this is your answer.
While I've highlighted several minor imperfections, nothing is all that significant and fall within expectations at this price point. Naturally, shoes that require more dexterity may have more inconsistencies making no two pairs exactly the same, but every one more special.
Boot Care: How I'll Be Taking Care of These
I've listed the products I'll be using to care for these Carlos Santos Field Boots.
Leatherique Rejuvenator & Pristine Clean - The best leather care product you've never heard of, if I could only choose one leather care product this would be it. The absolute best-kept leather care secret is Leatherique's conditioner called Rejuvenator which I've been using for years on all things leather. It'll keep your leather hydrated like no other conditioner and helps make stiff leather buttery soft. I plan to do a review post on it soon.
Routine: Apply 1-2 times a year both INSIDE and outside of the shoe. Remove all polish prior to applying. Best to apply in a warm environment by hand or heat with a blow dryer/heat gun for maximum penetration. Let sit for 24 hours if possible and follow the instructions!
FootFitter Diplomat Jumbo Horsehair Shoe Brush - A must have for anyone with quality leather shoes or boots. This particular one is very good quality being made in Germany and comes in a large size (8" x 2.75"). I'd highly recommend grabbing this larger size over the standard ~6" x 2". I know it doesn't sound like a big difference but I have the smaller versions and the larger one is much more enjoyable to use. Be wary of cheap horsehair brushes as the hairs tend to fall out much more quickly leaving a bit of a mess behind. Given that you won't need to replace brushes often, I'd recommend getting one of higher quality.
Routine: Quick brushing before and after use, just about 15 seconds on each shoe to remove light surface dirt and dust. I'll do heavy brushing sessions if needed to remove lighter scuffs or have accumulated more dust or dirt. You'll be surprised by how much of a difference a vigorous brushing session can provide.
Abbeyhorn Natural Cow Horn Shoe Horn - Simply use everytime you slip on your shoes or boots. Why? It will prevent you from damaging the stiff heel counter between the leather up and leather lining. Its there to keep the shape and support around the heel. If you don't use a shoehorn, you'll end up warping this counter piece over time and is not something easily replaced. It'll also prevent you from wearing out the lining at the heel as well.
Saphir Polishes - Touted as the best shoe polishes in the world, if you're looking for more shine, it doesn't get much better than Saphir. I recommend everyone having some neutral cream or wax polish on hand at all times. The latter if you're looking for a higher shine.
Routine: I use relatively sparingly and as needed (whenever I want to step up the shine), with lots of brushing between applications. For these boots, a mahogany brown cream polish on the brown grain shaft and a cognac brown cream polish on the upper. If I want a higher shine on the toe cap an heel counter, I'll go with the medium brown wax polish and finish with a few coats of neutral wax polish. To add extra burnishing and contrast on the toe, I'll reach for a navy wax polish over black.
Woodlore Epic Twin Tube Shoe Trees - Good quality, American made and affordable. Not much more you can ask for. I'd choose this shoe tree over Woodlore's cheaper offerings as those don't offer a full heel or knob to make removal easy, both of which are more important than you'd think. I've tried cheaper knock-offs and while those work, the quality, and finish simply weren't as good. Also, the price difference isn't that much more to support made in the USA manufacturing!
Routine: Insert into shoes after each wearing and let sit for at least 24 hours. You don't need a shoe tree for every shoe. Although that would be ideal, a solid 2-3 shoe tree rotation would be plenty for most.
Update: 08-08-2017
I've worn the boots for four months now (not so much since Summer started) and put 74,143 steps which is about 35.1 miles (yes, I've been counting with my phone). The calf upper has broken in quite nicely and is pretty comfortable. The shaft, on the other hand, is still stiffer than I thought it would be at this point, but certainly not uncomfortably so. I think I would prefer to leave the shaft unlined like Edward Green does.
The Dainite heel is showing wear quicker than I thought it would, but still way too early for judgment. The leather has stretched a bit as you would expect and leaves the boot feeling even roomier than before. I might even say this 316 last runs borderline half a size big, definitely on the generous side of things. Same goes for the instep, it's a little roomier than when I originally was wearing the boots. So I'd now say the instep is slightly higher than average.
All things considered, especially since I've recently acquired a pair of Edward Green Galways; these Carlos Santos Field Boots are a hell of a boot for the price! Although I've literally just received the EG Galways, this CS version is a way better value. If you can afford the Edward Green Galway boots, then go ahead and go for it, you'll be happy for sure. But if you can't get them on a good sale or is simply too far a stretch, I think you'll be extremely pleased with these!
I'll do an Edward Green Galway vs. Carlos Santos Field Boot post soon and continue to keep updates coming on this CS pair as well.
For additional reviews from different perspectives on Carlos Santos check out Shoegazing and From Squalor to Baller's thoughts on the brand.
PS. If you liked what you read, you can subscribe to this blog at the bottom of the page after the photo gallery. I hope you enjoyed! - Alex
Have any questions or suggestions for the review? Drop me a comment below after browsing the gallery!
We end with the best part: shoe porn.